News
This is Stennarroo Kiss Me Quick
Waiting for her new home. 12 weeks old. Enquires welcome
This is Stennaroo Twilight Princes
Waiting for her new home. 11 weeks old. Enquires welcome
Junior
20-21st May 2017
INTRODUCING: STENNAROO WHENTHESUNGOESDOWN

At 13 weeks old our boy Junior has smashed through the Show ring with the highest award – BEST BABY PUPPY IN SHOW.

He did this twice in the same weekend! This was the third show he had been to winning BEST IN GROUP AT ALL THE PREVIOUS SHOWS!

We are hoping for a great Show career for this young boy.

Stennaroo's Biggest Show Award so far
Brin, Babe and Violet
1st June 2017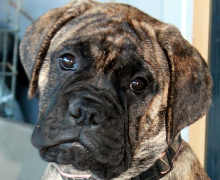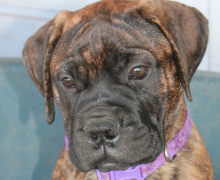 Introducing our three new Show girls - Brin, Babe and Violet
BRIN is our light Brindle beauty.
BABE is our Fawn Beauty and VIOLET is our Red Brindle Beauty.
These babies were born 13/02/2017 to Angie – Nirvanabelle Angie and Spartan – Sweetbryar The Viking. Grandfather is a Multi European Champion from Denmark.
Champion Stennaroo Takin A Chance
20-21st May 2017
Sassy is our young girl from Nirvanabelle Angie and BullsrKool Gift From Above. Born 30/11/2015.

She is our Show girl. She gained her Championship in December 2016 with a Remarkable PUPPY IN SHOW awarded in November 2016.
Spartan and Angie
Jan 25th, 2016
Angie and Spartan had 10 puppies on 13/02/2017. Brindle, Reds and Fawns.

6 Girls and 4 Boys.

Enquiries always welcome.
Spike's Story
November 29th, 2014
On the 26/07/2014 Gemma gave birth to eight beautiful puppies via C-Section. We were only expecting seven as an x-ray the week before had only showed seven skulls.

You can imagine our delight when we were told about the extra surprise.

Then it was discovered that puppy number Eight (Spike) had a cleft pallet.

This is a life threatening opening between his mouth and his nose. The opening started at the middle front of the roof of his mouth and went all the way back to his soft pallet and down his throat.

We were advised by the vet to euthanaise him because he would not be able to suckle from Gemma. We could not do this. So, we took Spike home and bottle fed him every two hours for three and a half weeks. It was emotionally draining on both of us and we had no idea how things would work out.

Spike's weight at birth was 665grams and after five days his weight dropped down to 520grams. We thought we were going to lose him.

At this point, I held him in the palm of my hand and I said "Listen little one; we are trying our best for you. Now it is your turn. Show us your spirit". We are convinced from this time on he started to turn the corner. Slowly but surely, he started to put the weight back on.

We didn't look in his mouth for about a week. Then when we did, we noticed that the soft pallet at the back of his throat had healed all by itself.

Another week later we noticed that the hard pallet towards the back of his throat had also started to heal. This was amazing. We took him back to the vet who could not believe that this was happening without any intervention. As the weeks went by, the cleft was getting smaller and smaller.

Today, Spike is 18 weeks old and there is just a tiny hole left that we believe will completely heal within the next few weeks. He has now surpassed some of his siblings with his weight of 25Kgs.

Spike has settled in to his new forever home with a fantastic family and they treat him like royalty. This little man let us know that he was meant to be. So we never gave up hope. Just look at him now.
New Girl Smarty
October 20th, 2014
| | |
| --- | --- |
| | This is our new girl Smarty - CH. Kangala Know It All, acquired from Kangala Kennels on 23rd September 2014. The future plan for this girl is to mate her with Supreme Champion - Gift From Above from Memorabull Bullmastiffs. |
Our Stud Boy Reno
July 26th, 2014
THIS HANDSOME BOY IS AVAILABLE FOR SERVICE TO SUITABLE LADIES (FROZEN SEMEN SERVICE ALSO AVAILABLE).

Reno (Bullestate Daytona) was acquired from Brenton Bullmastiffs in New Zealand on 7th May 2014. We are very grateful to Brenda and Tony Lamb for the privilege of now owning this boy.

He adjusted straight away into the Stennaroo family on the day he was introduced to us. He is now settling into his new home.
Contact Details
Barrie Stennings
Lockrose, QLD, Australia
Phone : 0423162364
Email :
[email protected]